Wheelchair Info
Handicapped Access Information @ BMT Graduation Handicapped parking is available throughout Lackland AFB. Handicap DMV License Plates or Hangtags are required. If you are traveling from another state, your hangtag will be honored on base. Please be sure to display them properly in your vehicles. AIRMAN'S RUN AND COIN CEREMONY (Thursday of Graduation Week unless otherwise noted) Parking and Access – The Airman's Run and Coin Ceremony: Handicapped Parking is available in the parking lot adjacent to the Reception Center.  The parking lot will be blocked off, but show your Hangtag to the Airmen posted there and they will allow you access. Wheelchair, Scooter and Walker Access – Reception Center: Ramp access is located from the parking lot into the building. You will exit the building onto the Retreat Pad. (There is a ramp available). Handicapped Restrooms: Accessible restrooms are available on the 1st Floor, off the lobby. Seating – The Airman's Run: The Airman's Run takes place on the Retreat Pad behind the BMT RC. The Airmen run in from the left, circle around the pad then exit the same way they entered. Spectators line  up in a circle in the middle of the Retreat Pad. Seating – The Coin Ceremony: The Coin Ceremony takes place on the Retreat Pad. Handicapped Reserved seating is located in and in front of the stands as marked on the map below.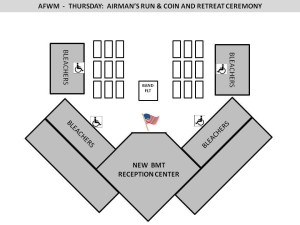 GRADUATION CEREMONY AND PARADE (Friday of Graduation Week unless otherwise noted) Parking and Access – Graduation Ceremony: There is Handicapped Parking available at the Parade Ground, however it may be limited depending on VIP Parking and Event Traffic. There is a Handicapped Accessible Bus with a wheelchair lift that runs back and forth between the Reception Center and the Parade Grounds. Due to limited space, they will only allow one family member to ride with you. The bus leaves from the side entrance of the Reception Center, adjacent to the Handicapped Parking Area. Should your family need to meet you at the Parade Grounds, the bus stop for the Handicapped Accessible Bus is located to the right of the main stands. Handicapped Accessible Seating – Graduation Ceremony: Handicapped Reserved Seating is locate to the right of the main bleachers as you look at the parade field. The Handicapped Accessible Bus Stop is directly in front of the seating area, the bus driver will direct you or you can ask one of the Airmen giving directions. Handicapped Accessible Restrooms: Accessible restrooms are located in a building to the rear right of the stands.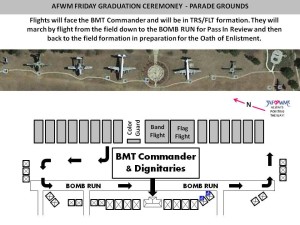 Wheelchair, Power Wheelchair and Scooter Rentals in San Antonio
-Toms Wheelchair Rentals 118 Broadway Street, Suite #540 San Antonio, TX 78205 (210) 223-7878 is open 7 days a week (9 AM – 5 PM), including holidays.  They also offer after hours support: www.tomswheelchairs.com. Rates are affordable and with delivery and pick-up options available to area hotels.
-Ability Scooters 10860 Gulfdale San Antonio, TX. 78216 (210)-315-8242 Monday – Friday (10AM – 5:30PM) www.abilityscooters.com
-Cost Plus medical Supply 3110 Nogalitos St San Antonio, TX 78225 (210) 568-8008 Monday-Friday (9AM-6PM) www.costplusmedical.com Wheelchairs and scooters available for rent in the San Antonio TX area. Rentals available for a day, week or a month. Delivery to all area hotels.
Wheelchair Accessible Van Rentals: Alamo Mobility of San Antonio, TX 6473 DeZavala Road San Antonio, TX 78249 Toll Free: 1-877-659-1480 Local: 1-210-338-8301 www.alamomobility.com Handicap accessible rental vans with lowered floor Dodge Grand Caravans with an automatic door, ramp and kneel system. The van accommodates one person in a wheelchair and up to five passengers including the driver.
Service Animal Information for Hotels and Business Owners in San Antonio: Service animals are defined as dogs that are individually trained to do work or perform tasks for people with disabilities. Examples of such work or tasks include guiding people who are blind, alerting people who are deaf, pulling a wheelchair, alerting and protecting a person who is having a seizure, reminding a person with mental illness to take prescribed medications, calming a person with Post Traumatic Stress Disorder (PTSD) during an anxiety attack, or performing other duties. Service animals are working animals, not pets. The work or task a dog has been trained to provide must be directly related to the person's disability. Dogs whose sole function is to provide comfort or emotional support do not qualify as service animals under the ADA.
City of San Antonio – Service Animal Facts for Business Owners www.sanantonio.gov/publicworks/dao/serviceanimalfacts.aspx
Hotels: All hotels in the Greater San Antonio area are required by law to be ADA Accessible. Please check with your individual hotel to confirm amenities.
City of San Antonio Disability Access Office: Director's Office Municipal Plaza Building 114 W. Commerce San Antonio, Texas 78205 Main Line: (210) 207-8022 Fax: (210) 207-4406 Monday – Friday (8AM – 5PM)
San Antonio Area Attractions ADA Handicapped Accessible Information The following San Antonio Area Attractions have been contacted and ADA/Handicapped/Wheelchair Accessibility has been verified and deemed reliable by AF WingMoms.
Morgan's Wonderland General Information: http://www.morganswonderland.com/
River Walk: General Information: http://www.thesanantonioriverwalk.com/ ADA Accessible Maps: http://www.sanantonio.gov/ada/
The Alamo General Information: http://www.thealamo.org/
Grand Trolley Tours General Information http://www.citytoursinc.com/trolley-tours
Historic Market Square General Information http://www.sanantonio.gov/marketsquare/
Institute of Texas Cultures General Information http://www.texancultures.com/
San Antonio Botanical Garden General Information http://www.sabot.org/
San Antonio Zoo General Information http://www.sazoo.org Accessibility Info https://sazoo.org/general-information/rentals/
Sea World-San Antonio General Information http://seaworldparks.com/seaworld-sanantonio Waves of Honor: http://www.wavesofhonor.com Accessibility Info: http://seaworldparks.com/seaworld-sanantonio/Park-Info/Accessibility-Guide
Six Flags – Fiesta Texas General Information: http://www.sixflags.com/fiestaTexas Accessibility Info: https://www.sixflags.com/fiestaTexas/assets/pdf/ADA_SFFT.pdf
Tower of the Americas General Information: http://www.toweroftheamericas.com/