Lackland RV Campgrounds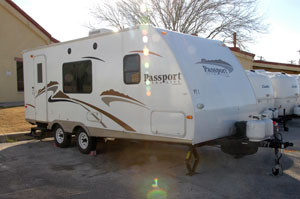 Lackland has a FamCamp located on Foster Street behind the Fisher House. RV customers can take advantage of our laundromat, cable television, and WiFi. Visit the us in Building 2804 or give us a call at 210-671-5179.
Site includes:
•New! Free wireless internet access – limited areas
•Cable TV connections and laundry
•Restrooms/showers and laundry open 24 hrs
•Full hookup 30/50Amp, water, and sewage
•Picnic tables & grills
•USAF frequent camper participant and Military R.V. camping books
•Partial pull-through 30/50Amp, water
•We accept Visa & Mastercard
29 Back-in Sites
30/50 Amp • Water • Sewage
12 Pull-thru Sites
30/50 Amp • Water
Rates
"Premium" Full Hook-Up Sites (W/S/E 30/50amp, CATV, Back-In)
DAILY $20.00
WEEKLY $120.00
MONTHLY $440.00
"Partial" Hook-Up Sites
(W/E 30/50 amp, Pull-Through)
DAILY $18.00
WEEKLY $110.00
MONTHLY $420.00
Note: Sponsored Visitors price remains the same $22.00 Per Day.
Restrictions
•No advance reservations
•Maximum length of trailer/vehicle must be no larger than 40 feet
•You must be either: Active Duty, Retired Military, National Guard, Reserves, DOD, 100%DAV, or a Sponsored Guest to use this facility
Temporary Storage
If you have an oversized recreation vehicle, ie; boat, camper, trailer, please register at the FamCamp 210-671-5179. Cost is $3.00 per day per vehicle.
RV Storage
Phone 925-5532 or 5533
Open 24 hours a day 7 days a week
Per fiscal year – $250.00
Per Quarter – $ 90.00
Must have valid military/DoD ID card stationed at Lackland AFB or retired military in local area to use lot.