Shirts & Air Force Merchandise
Something that many people have done for their Airman is to have a shirt made to support them as they run in the Airman's Run.  While most choose to wear their shirts on Thursday for the Airman's Run and Coin Ceremony, shirts can also be worn to the Graduation Parade as well as throughout the weekend.
Each TRS has a different shirt color for the Airman's Run. Over the past year we've seen the shirt color change so if wearing a shirt the same color as your Airman is very important to you please understand the only way to verify what the correct color is would be to ask your Airman.  We are not always informed if and when a shirt color may change.
320 TRS- Red t-shirt
321 TRS- Gray t-shirt
322 TRS- Royal Blue or Yellow Gold t-shirt
323 TRS- Maroon t-shirt
324 TRS- Dark Purple or Military Green t-shirt
331 TRS- Black t-shirt
SHIRT VENDOR OPTIONS
The Lackland Shirt Shop:  The Squadron shirts (same as the ones the Airmen will wear during the Airman's Run) are produced by The Lackland Shirt Shop (LSS), the official squadron vendor.  This shirt will include the sq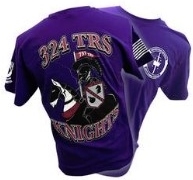 uadron emblem on the front, the mascot on the back, and will be in the TRS color.  Please be sure and use the coupon code AFWM10 to receive 5% off of your order!
LSS also produces the Flight Shirt.  Flight shirts are designed by the trainees.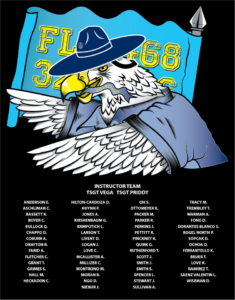 The design of the shirt usually includes all of the Airmen's last names in the flight, the leaders, and a cool image designed by the flight!  The trainees are able to preorder these while still in BMT.  Family and friends may pre-order these from the LSS website.  The deadline to order these shirts is the morning of Ceremony Week.  You can also ask your trainee (via letter) to order one for you when they submit their orders.  LSS prints a few extras available on a first come, first served basis.  After graduation, flight shirts may be ordered from the LSS website as past graduation items,  The design on the back will be the same, but the image on the front and sleeve may vary from the original design.
A portion of all proceeds from sales in this store goes to AFWM to further our mission of Positive Support and Encouragement for our Airmen and their families!
Basic Training Store:  T-shirts, sweatshirts, buttons, keychains and more!  Basic Training Store (BTS) has you covered.  You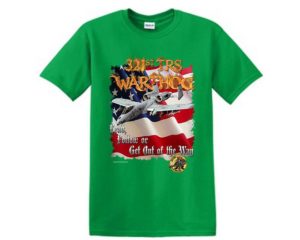 can find a variety of shirt options for each TRS.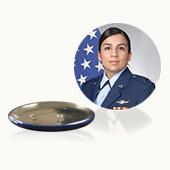 BTS is also the place to get the button or keychain featuring your trainee in his/her first dress blues photo.  NOTE: You order these sight unseen!  These usually arrive around WOT 6, so you can rock them at graduation!
Lackland Vendor: Another shirt vendor is the one that is right outside the mini mall.  The minimall is same one that has the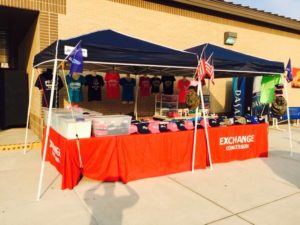 Starbucks so you can get your caffeine fix too!  They sell shirts and has for $10 each or 3 for $25!  You can also find hats What a great deal and these make awesome souvenir items!
Airman's Store: We also have a partnership with Airman's Store and are offering official AFWM merchandise through them.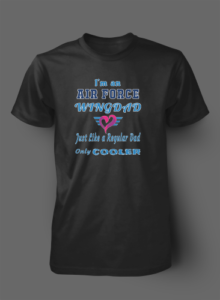 They also sell customizable TRS shirts and banners.
Design Your Own:  Local shirt shops, Etsy, Iron-ons, Markers on a white shirt … you can get a shirt wherever you like!  Want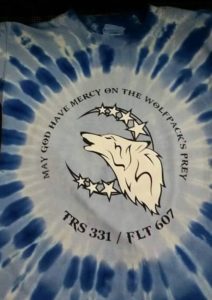 to stand out, go for a bold, bright color.  Your Airman will spot you for sure!
FYI: When making shirts for your own use (such as wearing to the Airman's Run etc.) you may use the AF logo/symbol. When making them for resale you are not allowed to use the AF logo/symbol.
Click HERE for the official website page that talks about the USE OF THE AF LOGO.
***Please, don't feel like you have to have a special shirt or banner made for graduation.  Your Airman won't care what you are wearing or holding … they just want to see YOU!
Commander's Choice Jewelry: Looking for the perfect graduation gift to commemorate the occasion?  BMT Graduation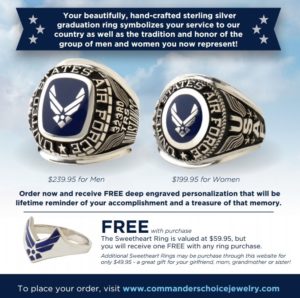 Rings will save each Airman 60% on a BMT Graduation Ring or $160.00 on each ring ordered.  Includes free engraving up to 16 characters.
You can also opt for a Souvenir Mug at a 40% savings on each 32 oz. mug.  Order 6 and receive a total 50% savings plus free shipping.  For more information, click HERE.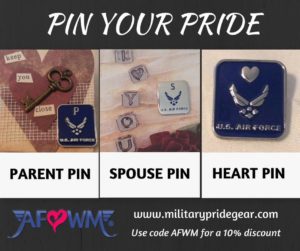 Military Pride Gear: Parent Pins!  Spouse Pins!  Heart Pins!  A pin for anyone to rock to show their love and support of an Airman.  One pin is just $15.  You can also mix and match … or get two of the same for $20.  Pick your perfect pin HERE.  Be sure to use the code AFWM to get 10% off of your order.