Photos & Videos
Basic Video Productions/Basic Training Store
7818 Fortune Drive
San Antonio, TX 78250
Email: cs@basicvideoproductions.com
Phone: 210.695.4979
Fax: 210.272.0294
Click here to access their website.
BVP takes the photos during training and the first photo in their blues (known as the "trainee photo"). You will need to contact them, at the above listed number, for more information.
Keep in mind your trainee will most likely buy the discounted photo pkg when they have their blues photo taken in WOT 4, so you may want to check with your trainee before making a large purchase.  You can always purchase more at graduation or even after graduation.
If you would like a 'sneak peek' sent to you of your Trainee's Dress Blues photos you can order a Photo Button! Please contact BVP
for details on how to place your order! Email cs@basictrainingstore.com for further information. NOTE: You order all photos/videos/buttons, etc "sight unseen."  That means no previews or proofs are online.
Visual Touch Photography
1451 Stewart St. MiniMall B-7025
Lackland AFB San Antonio Texas 78236
Phone: 727.391.2917
Click here to access their page.
Visual Touch Photography has added a facebook STORE.  Click the "SHOP NOW" button to find the BMT Graduation packages, which allows customers to PRE-order their Official Graduation, Parade, Airman's Run and Family photos from Visual Touch. They are located in the MiniMall at Lackland AFB if you would like to purchase items during graduation week.
Visual Touch Photography is now offering a 10% discount to AFWM's. They PREFER that all members pre-order (regular prices are discounted on the facebook store) but it is not necessary, as long as you mention AFWM's you will receive a 10% discount on your entire BMT/Family order (Includes photos, digital files and frames).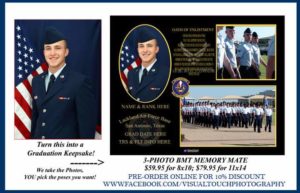 Visual Touch Photography is the only place that offers:
1) Customers can PREVIEW the Memory mate & CHOOSE other photos before printing
2) Any of their products can be personalized with Name, Rank & AF Graphics
3) Orders are printed onsite immediately – no waiting, no shipping.
4) Our Airman's Portrait is the only portrait with graduation ribbons – their 'official portrait'
More information on how to get these photos done will available during graduation week at the Reception Center.