Graduation Gift Ideas
Graduation gifts … to get or not to get?  Your Airman will only care that you are there and not be concerned about getting a gift.  However, if you just gotta do it, there are some USAF ideas that will help mark the occasion.   Please note that these are only suggestions, and a gift gift is not at all required or expected.  Keep in mind that all electronics of any kind cannot be brought back to the dorm.  You can present them with an electronic gift, but then you'll have to mail it to them once they get to tech school.  For any other gifts (jewelry, cloths, boots, etc), your Airman will need to ask his/her MTI permission to return to the dorm with them.  For this reason, sometimes a gift card is always a great option.  That way they can purchase whatever they need once they get to tech!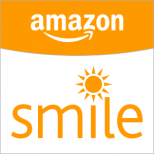 Amazon Smile has a wealth of gifts your Airman would love.  While shopping use this link and give back to AF WingMoms. https://smile.amazon.com/ch/45-3108950.  Popular choices include, but are not limited to the following: Challenge Coins (also available on base), Challenge Coin Displays, Flag displays, Mugs, Shirts, Flags, Wallets, Keychains, Assignment/Deployment Maps, Alarm Clocks, Gloves, Airman's Bible
Jewelry is also popular, and usually easy gift to choose.  However, your Airman now has to follow certain rules.  That can vary from Airman to Airman depending on the job they do.  Watches are a popular choice, and many like the G-Shock watch in basic black.  If you go with jewelry, just remember that even if they cannot wear it in uniform, they can wear it in civilian clothes.  Amazon Smile has great jewelry options too!
Apparel and Luggage: Sometimes your Airman may want an extra pair of boots, or maybe a garment bag for dress blues.  For this reason waiting until you are with your Airman for Ceremony Week is best.  That way they can pick exactly what they want.  Not all Airmen want a garment bag, some are find with their shoes, some would rather wait until tech and others know exactly what they want/need.  For apparel choices, shopping WITH them instead of FOR them is best.  There are places to purchase these items on base.  There are also stores right outside of base that carry shoes.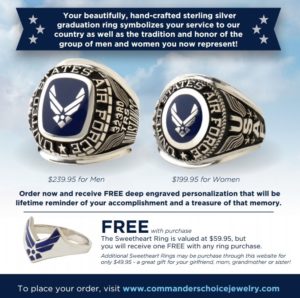 Commander's Choice Jewelry has BMT Graduation Rings.  They includes free deep engraving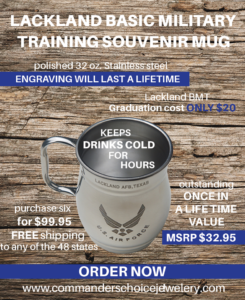 .  All purchases also come with a FREE sweetheart ring for a limited time (a $49.95 value).  Click HERE for the informational flyer.
You can also opt for a 32 oz. Souvenir Mug, laser-engraved, for just $20.  Order 6 for just $99.95 plus free shipping in the continental U.S.  For more information and to order from the Commander's Choice website, click HERE.
Ordering a Capitol Flag is a great idea, that takes a little planning on your part.  All flag orders must be made through your U.S. Senator or Representative.  For more information on how to do this, click HERE.
Whatever you decide to do, just remember the MTI has the final say in what they can bring back.  That means you should be prepared to take it back home with you to mail to tech/give back at a later date.  They have another week after Ceremony Week at BMT, called Airmen's Week.  They will still have limited storage.  They don't need civilian clothes yet.  In fact, they can't wear them until they pass a series of inspections at tech school, which can take up to a month.  For more info on their trip to tech, click HERE.
Airman Paver Program is another way to leave your Airman's mark!  These take more time, as they only order them in a big batch, so be prepared for that.  These engraved bricks will be installed around the Parade field and adjacent areas at JBSA Lackland.  Click HERE for more info on ordering a paver.