Banners & Signs
The first time you will see your Airman is at the Airman's Run!  Lots of families want to show their pride with a banner.  it doesn't matter if you get one made professionally, get crafty with a homemade one, or just yell and wave as yours passes by … in the end your Airman just wants you there.  If you do decide you want a banner, here are few suggestions:
BuildASign:  This is a company many families use.  You can choose to make either a FREE banner or FREE jumbo card (cannot be folded), you just pay for shipping. Please make sure you go to this website: www.buildasign.com/troops – including the /troops otherwise you'll be on the regular site with the regular charges.  When ordering they recommend that you order at least one month in advance. Closer to grad date, the more expensive it is to ship.  BuildASign has a facebook page so stop by and share some of your WingSpirit and let them know you're from AFWM!
*********************
Current BuildASign Special!!!
Get 25% off BANNERS and 15% off all other signage by using the promo code 15615 at checkout.  Get 18% off all signage with the promo code 15614.
*********************
Vistaprint: Families have also used Vistaprint for their banner needs.  be sure to look for coupons online or on sites such as Groupon before you order!
Local Print Shops: Be sure to check local print shops in your area for other banner deals.  Big box retailers and stores such as Walgreens can also offer these kinds of items.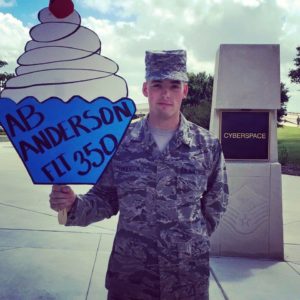 Homemade Banners:  By far some of our favorite banners are the homemade ones!  Even if you don't consider yourself a crafty person or artist, these "from-the-heart" banners are always unique and eye-catching.  Be clever, funny, sweet … whatever your personality and your Airman's … a homemade banner can really let that shine through!
Our Facebook photo albums have many great examples of banners, both professional and homemade. Banners A-G. Banners R-Z.
Tips/Hints/Advice from our members:
Keep in mind how big you want it to be … and how many people you will have to help you hold it!  Common sizes are 2×4 and 3×6 and usually require at least two people to hold it.
Most use the banner at the Airman's Run. Be cautious about using it at the Coin Ceremony or the Graduation as you will be sitting in bleachers and you don't want to block anyone's view of the ceremonies.
Most people put AMN on their banner as it is an appropriate title for anyone in the USAF.
Don't forget you have to travel with it.  Banners can be rolled or even folded.  You can lay it out flat to get the wrinkles out once you get to your hotel.  Even it has some wrinkles or folds, your Airman will still look great posing next to it!
When searching/googling an image to put on a banner you are making online, look for one at least 72dpi.
You can add both grommets and hemming for an extra charge with companies such as BuildASign. This is recommended for hanging later
Purchase it without the TRS/FLT and without the graduation date so that you can use it at other events or in case something happens and your trainee is recycled. You can always add a date, TRS/FLT info with a black marker or with peel and stick numbers later if you'd like.
The banner can be used while you record a message for the Graduation Video also. They make an announcement about recording messages between the Airman's Run and Coin Ceremony.  It's great to see families holding their banners while recording their well wishes.
Keep the banner simple. Too much on the banner will be harder to read when they are running by.
Do NOT tie your banner onto railings, etc at the ceremonies.  They should only be handheld.  Lackland AFB is not responsible for banners that are left for any reason or length of time.
And last but not least…. We really, really encourage you to have a banner signing party when you get your banner. Gather friends, family, neighbors etc. and buy a bunch of sharpie markers and some pizza and have fun writing well wishes on the back of your banner!!
FYI: When making banners for your own use you may use the AF logo/symbol. When making them for resale you are not allowed to use the AF logo/symbol. Here's the link to the website page that talks about the USE OF THE AF LOGO.