Traveling To Tech School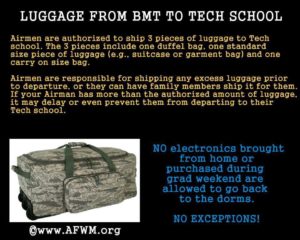 The Monday after Airman's Week, your new Airman will out-process from BMT and then travel directly to their tech school. Depending on their specialty, their tech school may be right there on Lackland AFB or in another part of the country. You can refer to http://www.airforce.com/careers/ to find out more about each career, the Tech School location for that career as well as the length of the Tech School.
A common question is if families should bring items with them to graduation for their Airman to take with them to Tech School. Your Airman's MTI has to give permission for your Airman to bring items back to their BMT dormitory.   For the most part, the USAF wants you to mail any and all items to your Airman once they get to their tech location.  Keep in mind after Ceremony Week (WOT 7) they stay for one more week of BMT called Airmen's Week (WOT 8).   Some MTIs may allow a few items to be brought back to the BMT dorms while others do not. You should ask your Airman if it will be allowed or not. If not or the amount of items they want exceeds the amount of space they will have in their luggage, you can always send the items to your Airman once they arrive at Tech School. The amount of luggage and space in the luggage will be pretty limited when your Airman leaves BMT for their Tech School. They will have a lot of items they were issued at BMT they will be bringing with them to Tech School. Please keep this in mind if you are going to bring items for your Airman to BMT graduation.
We have copied below the luggage instructions and limitations your Airman will receive prior to departing BMT.
– One Duffel Bag – marked with your last/first name (duffel issued at BMT, white laundry marker – 3″ high letters)
– One Additional Piece of Luggage not to exceed 24″ x 26″ (This is the one they bring with them to BMT, be sure to use a luggage ID tag)
– One Carry-On, which may be a briefcase, purse, or SMALL backpack/tote (backback issued at beginning of BMT)
– Do not take any electronic devices. Your Airman can and will get into trouble if caught with them. Ship all devices/electronics such as: Laptops, cell phones, Ipods to them at Tech School
– Do not pack any heel/sole dressing or aerosol cans! Do not tie anything to the outside of your luggage or place your uniforms on hangers. Plan ahead! If you have uniforms at the cleaners, you will not ship!
– Do not purchase extra items after graduation, unless they fit COMFORTABLY in your luggage. Do not have family members bring your personal items from home – they can be shipped to your tech school.
– Remember – you will be responsible for loading/unloading/carrying your own luggage!