WOT 0 – "Zero Week"- Processing
From the moment you arrive, you will begin the process of becoming an Airman in the world's greatest Air Force. The training will be intense and you may find it the most demanding 8 weeks of your life, as well as the most rewarding. Preparing physically in advance and coming with an open mind will play a big part in your success.
As far as climate goes, Lackland Air Force Base is located in San Antonio, Texas, which may be a drastic change for those not familiar with heat and humidity. However, basic training is designed to help you acclimate. During the last week of training, graduation week, you and your family will have an opportunity to experience the exciting attractions San Antonio has to offer.
Introduction to BMT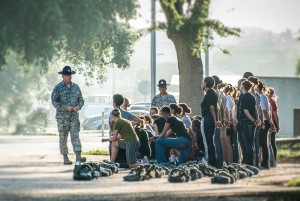 Welcome to Basic Military Training located in Lackland AFB, TX. Below are highlights of training activities which occur each week. Each new Week starts on Sunday.
Processing Week (video)
BMT Arrival Briefing
Health, Morale and Welfare
Commander's Arrival Briefing
UCMJ
Coping With Stress
BMT Orientation Briefing
AF Initial Physical Training Assessment
BMT PT Program
Drill Movements I
Recruit Living Area I
Initial Trainee  Pay
Clipper Cuts
Initial Clothing Issue
Initial BX
Drug Testing
Immunization/Blood Draw
BEST
Chapel Orientation
737 TRG/CC/CCC Briefing
TRANSIT
Click HERE for a look at what they will be doing each Week of Training.
Also on our main AFWM Facebook wall on the left is a link called, "Share". We'd encourage you to suggest the page to all your family and friends and even the friends of your Trainee. The more people we have pulling together supporting and encouraging each other the better. Especially for those unable to attend graduation. The page is an awesome way to stay connected.
Here's the link to the AF youtube channel called AF BlueTube.
Here's the link to the official USAF Basic Military Training page.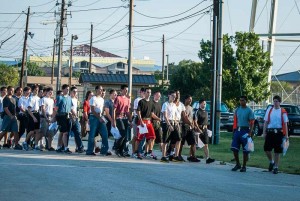 The journey has begun and we're looking forward to sharing PS&E (positive support & encouragement) with you and helping you in any way we can.